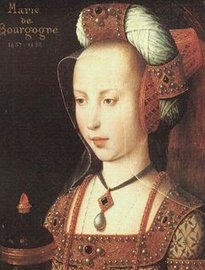 The battle at Nancy was a meeting of the armies of Burgundy, led by Charles the Bold, laying siege to the city of Nancy, and the armies of Switzerland and Lorraine, led by René II, duke of Lorraine.
January 5th 1477, Charles the Bold died in battle during an icy cold night at the battle of Nancy. His body, submerged in a swamp, was found only days later, half eaten by wolves. His death was a dramatic turning point – the Burgundian dream was at an end. His daughter, Maria of Burgundy, inherited a huge empire but not the trust and support of the Flemish cities.
Bruges en Ghent saw an opportunity to regain lost privileges en raised a rebellion. It didn't take long before Antwerp followed suit. In an attempt to quell this rebellion as soon as possible, wealthy Burgundy sent a huge professional army in an attempt to force the rebellious Antwerp citizens back into submission…
The event
With 'de Quaeye Werelt' (the angry world) we try to recreate this unsettled period, which was of great historical importance, as accurately as possible. Since the first edition in 1999, de Quaeye Werelt has grown to be the largest medieval event of the Benelux.
Craftspeople and shopkeepers from all over Europe show off their know how en offer you the opportunity to sample and buy their wares. Taylors, blacksmiths, armourers, woodworkers, weavers, etc… every aspect of daily life in the Middle Ages is represented.
Saturday and Sunday afternoons, the battle for Antwerp is fought. Hundreds of re-enactors from all corners of Europe take part - mercenaries, militia, knights, archers and cannoneers - not for the fainthearted!
And entrance is free!