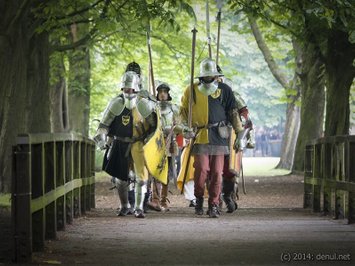 The Quaeye Werelt invites all re-enactors willing to take part in our 1477 event.
Craftspeople like basket weavers, weavers, bowyers, blacksmiths, minstrels, bakers… but also knights, soldiers and squires are welcome to take part in making this event a true historical feast.
Registrations and Rules
Would you like to take part? Email your expression of interest to participants@dequaeyewerelt.be, including some information about your group and a few photos of your camp. If you meet our requirements for historical accuracy and we have room left, you will be sent a registration form.
Take note: your registration is only complete when you have received our confirmation!
For questions and general information about the event, you can email info@dequaeyewerelt.be.
Practical
Re-enactors with a confirmed registration can arrive from Thursday at 9am and need to report at the Info-tent. Breaking up camp and loading is possible from Sunday 6pm. The terrain must be vacated on Monday by 12noon.
The camp is open to public Saturday and Sunday from 10am to 6pm.
The battle takes place on these days at 3pm.